Dillan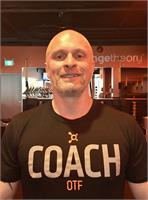 Coach

Dillan Simard
Coach Dillan received his Weight Training and Personal Trainer Certification from CFES (Canadian Fitness Education Services). Months after his final exam his Orangetheory Fitness journey began. And it all started out with failure. After auditioning for a position at the Vancouver Convention Centre location, and making it through three days of training, it was decided he wasn't quite ready. Devastating.
He knew where he wanted to be, what it was going to take to get there, and had found the motivation to take his coaching skills to the next level. He knew one day, OTF would be his home. Dillan took his nose to the grindstone and continued to train people one on one, honing his craft. Then when the Davie Street location was announced he jumped at the chance. Failure has now turned to success as he is one of the most in demand Coaches at both the Davie Street and Convention Centre studios.
Coaching Style
HIGH ENERGY
Larger than life personality (and biceps) but cares intensely about your form and will get down on the floor with you to help you nail it!
What Do You Burn For?
"My kids, myself and everyone who walks through our front doors."
Dillan instructs the following:
60 Minute Orangetheory Workout