Rick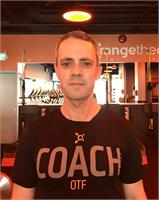 With over 10 years experience in the fitness industry, Coach Rick's impressive background includes Personal Training & Group Fitness certifications, as well as specializations in TRX Suspension Straps, endurance training and recovery/mobility. As an Orangetheory Fitness Coach you can expect he will pay close attention to detailyou're your technique, while keeping you motivated to find the right level of challenge for each individual Member. It's common to hear him ask the entire room to re-focus on posture, core engagement, and "nice strong breathing!".
Coach Rick was initially drawn to OTF by the Water Rowers and low impact Treadmills, but quickly fell in love with the world-class programming and the workout as whole. A firm believer in cross training, the workouts just made sense to him. As a Coach Rick adds OTF workouts to his IRONMAN training schedule to bring better balance to both his physical and mental well-being.
Coaching Style: Heavy focus on technique, form and safety. Keeps things intense and motivating without yelling at you!
What Do You Burn For? "Our Members. Every day I get to coach at Orangetheory Fitness is a great day. I know I tend to announce 'Today's going to be a tough one' more often than not, but it only speaks to the variety and creativity of each workout I have the honor of coaching our Orange Tribe through"
Rick instructs the following:
60 Minute Orangetheory Workout