Will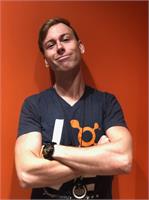 Coach Will is not an elite athlete. Has never been an elite athlete. He is just a regular guy that likes to work out to maintain his sanity. After graduating from Hilltop Academy in 2016 with certifications in Weight Training, Personal Training and Group Fitness from BCRPA, Coach Will began his career in the fitness industry at the one and only place he wanted to work: Orangetheory Fitness South Surrey. After trying a class on a field trip, he fell in love with the heart-rate based training, the science and the ENERGY of OTF. Since then he was worked at four different OTF studios within the GVRD, all of which prepared him for his current role as Head Coach at @OTFdaviestreet.
His intention for every class is for Members to leave feeling like a million bucks and ready to take on the world! He accomplishes this by meeting his Members where there are at in terms of fitness level and helping them transform not just their bodies but most importantly, their relationship with fitness. Frequently rants about exercising your gratitude muscle, fighting to build a positive body image, making each rep count and holding your Base Pace after every single Push without walking it out.
Coaching Style: HIGH ENERGY! More than a workout, it's an experience. Light and fun yet intense and productive.
What Do You Burn For?
"I burn for the physical, mental and emotional freedom of our Members. I burn so that the light I give off may guide others when they are feeling lost. I burn, to paint the planet Orange."
Will is currently not instructing any classes.